Today's Update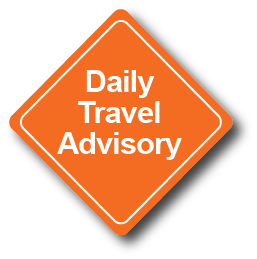 During Phase 2, travel is shifted to the outside lanes (the two center lanes are closed)


Once on the bridge, vehicles are not able to change lanes.
Visit the Know Your Lane page to plan ahead and know which lane you need to be in before you reach the bridge.
EXIT 184A TO ERLANGER IS OPEN FROM I-275 EAST AND WESTBOUND. Traffic traveling from I-275 East and West has access to Exit 184A. Traffic traveling south on I-71/I-75 does not have access to Erlanger exits.
CURRENT LANE CLOSURES
Northbound:
The two center lanes are closed on the bridge; the two outside lanes are open.

Lane closures begin just south of Pike Street in Covington.
Southbound:
The two center lanes are closed on the bridge; the two outside lanes are open.

 
CURRENT RAMP CLOSURES
In Ohio:
I-71 / US 50 ramp to I-71/75 South (via Ft. Washington Way)
3rd Street ramp in Cincinnati to I-71/75 South
In Kentucky:
4th Street ramp in Covington to I-71/75 North

I-71/75 South to Erlanger/KY 236 (Exit 184) is partially closed (184A is accessible from I-275 east and westbound)
We appreciate your continued caution and patience while driving through the project area.
For real-time traffic updates, click one of the options below:
Routine maintenance is taking place on the Brent Spence Bridge, where I-71 and I-75 cross the Ohio River. Beginning June 23, 2017, there will be lane closures and traffic impacts on the bridge and on the routes used to get around the bridge. Major impacts to traffic are expected for approximately 60 days. Overnight lane closures following the major traffic impacts will last another three months. Travelers should plan their drives in advance and know their lane if planning to travel over the bridge.
The Kentucky Transportation Cabinet (KYTC) is managing this project, which is part of an ongoing program to maintain and improve the condition of the regional transportation network.

Interested in receiving periodic email updates about the #BSB2017 project? Sign up today! brentspence2017.org/email-updates/

REMINDER: 5th and 12th street exits in KY MUST use the right lane when crossing the I-75/71 SB on the bridge. #KnowYourLane

Erlanger Exit 184A is open from I-275 East and West.

Brent Spence Bridge maintenance project enters Phase Two www.wcpo.com/traffic/southbound-brent-spence-bridge-reduced-to-1-lane-this-weekend