Today's Update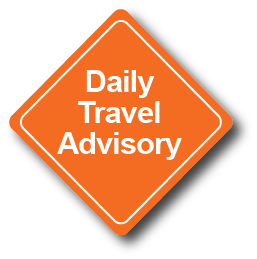 THIS WEEKEND: APRIL 21 & APRIL 22



NORTHBOUND LANES ON THE BRENT SPENCE BRIDGE
WILL BE REDUCED TO TWO LANES
BETWEEN 10 PM SATURDAY AND 10 PM SUNDAY
4TH STREET RAMP TO I-71/I-75 NORTH IN COVINGTON
ALSO WILL BE CLOSED BETWEEN
10 PM SATURDAY AND 10 PM SUNDAY
Beginning at 10 p.m., this Saturday, April 21, weather permitting, travel on I-71/75 northbound will be reduced to two lanes across the Brent Spence Bridge. The 4th Street ramp to I-71/75 north in Covington also will be closed during this same period.
Travel on all four northbound lanes and the 4th Street access ramp will resume by 10 p.m., Sunday, April 22.
This seemingly never-ending, up-and-down winter takes its toll on more than just our moods – it also negatively affects roadway surfaces. These closures are needed for minor roadway repairs.
Drivers should expect northbound travel delays and take alternate routes, if possible.
For real-time traffic updates, click one of the options below:
The Brent Spence Bridge 2017 Maintenance project was managed by the Kentucky Transportation Cabinet (KYTC) as part of its ongoing program to maintain and improve the condition of the regional transportation network.